U nedelju navečer, u sklopu mjeseca "Crnačke povijesti" (Black History Month – obilježava se tijekom veljače svake godine – op. a.), Bostonska policija odala je priznanje čovjeku koji je promijenio povijest američkog sporta i unaprijedio položaj crnaca u društvu tako što je bio prvi NBA trener koji je draftirao crnog igrača, koji je prvi u petorci imao sve crne igrače i koji je prvi angažirao crnog trenera prije no što je isto pokušano u drugim velikim američkim profesionalnim ligama.
Postoji samo jedan problem: Red Auerbach je bio bijelac.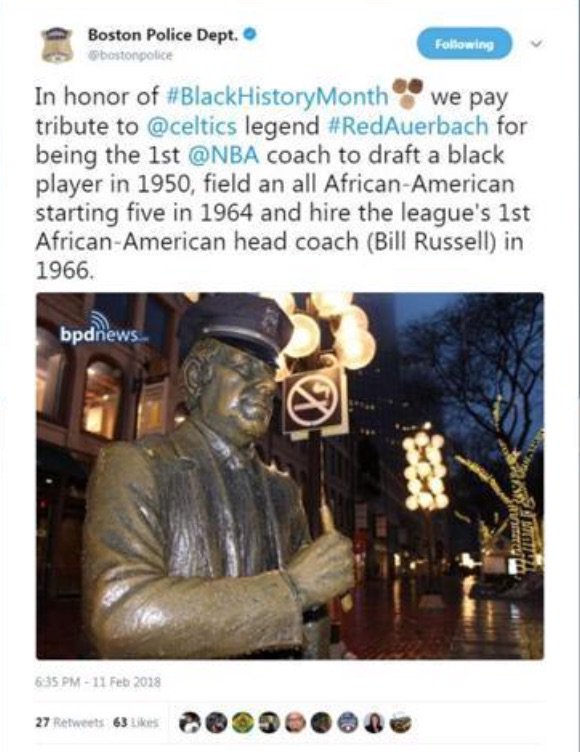 Unatoč činjenici da je Auerbach bio "daltonista" kad je u pitanju bila vještina, što mu je pomoglo da osvoji nevjerojatnih 9 NBA naslova u 10 godina, uključujući 8 zaredom, nečuveno u profesionalnom sportu te činjenici da je imenovanje Billa Russella kao trenera Boston Celticsa 8 godina prethodila prvom crnom menadžeru u MLB-u (baseball) i 23 godine prvom crnom treneru u NFL-u (američki nogomet), tweet policijske postaje izazvao je metež:
Only in #Boston do the @bostonpolice honor Red Auerbach for #blackhistorymonth. So we already have the shortest month and now this. Please file this under Hell Nah aka Not Having it aka Not Ok. #bospoli #Boston #mapoli https://t.co/Jv38uutK0e

— Tito Jackson (@titojackson) February 12, 2018
This is unbelievably clueless. Seriously… this is tonedeaf and irresponsible. This tweet should be deleted, followed by an apology

— Rick Waldron (@rwaldron) February 12, 2018
Well done. Everyone knows black history month is all about honoring white guys.

— Jasmine Shmasmine (@JasIsReady) February 11, 2018
Nice optics, Boston.

— Erin Altman (@AltmanErin) February 12, 2018
Is this a joke?

— Matt McDermott (@mattmfm) February 11, 2018
Kao rezultat cijelog meteža, Bostonska policija je obrisala tweet za manje od sat vremena nakon što ga je objavila.
Cijeli incident potaknuo je kolumnista Boston Globe-a Jeffa Jacobyja da se okomi na prosvjednike:
Good Lord, this is the phoniest of phony indignation. Why the hell is it "clueless" & "tone deaf" to honor a white man's contributions to black advancement? It's Black HISTORY Month, you dolts, not Black Achievers Month. https://t.co/AVk9xCpwnZ

— Jeff Jacoby (@Jeff_Jacoby) February 12, 2018