Novinar britanskog Independenta pobjesnio je u nedjelju navečer, nakon što je Gary Oldman osvojio Oscara za najbolju mušku ulogu glumeći Winston Churchilla u filmu "Darkest Hour" i imao hrabrosti zahvaliti se Churchillu osobno.
Čim je Oldman napustio pozornicu, Ryan John Butcher, beznadežno uzrujan, izrazio je svoje frustracije prema Churchillu, nazivajući čovjeka čije je vodstvo u Drugom svjetskom ratu vjerojatno spasilo Zapadnu civilizaciju "ratnim zločincom" i "rasistom".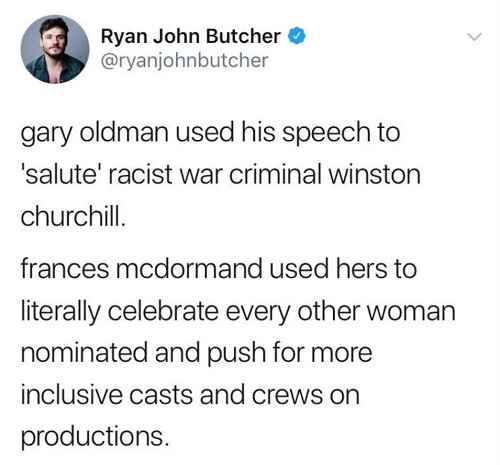 Poznato je da je Churchill, premijer za vrijeme Drugog svjetskog rata, imao manje plemenitih trenutaka u svojoj karijeri, kao na primjer kada je rekao da "mrzi" Indijce nakon njihovog ustanka.
Ali većina ljudi priznaje da je Churchillova nagla narav bila mala cijena za njegovo vodstvo tijekom Drugog svjetskog rata, suprotstavljajući se nacistima iako je većina njegovih zemljaka – pogotovo onih koji su bili na vlasti – razmišljala kako bi Ujedinjeno Kraljevstvo predala Adolfu Hitleru. Oldmanova izvedba prikazuje Chruchillove prve dane kao premijera, kad je vodio upravo te bitke bez ičije podrške.
Srećom, Twitter je pun amaterskih povjesničara koji posjeduju više znanja od Butchera koje su nabrzinu školovali.
Yes, how dare he pay tribute to the man who stared down fascism when real heroes like [checks notes] the most successful people in Hollywood should have been praised. pic.twitter.com/d40gvW3ELj

— Sonny Bunch (@SonnyBunch) March 5, 2018
Really asinine. Churchill was wrong on many things, but right on the most important issue of his lifetime, which directly contributed to the demise of the least inclusive regime of the 20th century. Relative progress = good. Absolute judgement : not even Lincoln would survive.

— Ross Taylor (@rosstaylor90) March 5, 2018
@ryanjohnbutcher the guy fought the nazis. Are you now against a guy who actually fought nazis? Like the ACTUAL nazis, the ones who murdered Jews, Slavs, gays, disabled, really?! pic.twitter.com/yb9gRDSTdR

— PavelP. (@Pavelprisyazhn1) March 5, 2018
Butcherov račun na Twitteru je od onda u privatnom modu.